Upper West Side
This cultured residential neighborhood is packed with landmark restaurants and brims with lovely families.
Homes for Sale in Upper West Side

Welcome to the Upper West Side

This cultured residential neighborhood is packed with landmark restaurants and brims with lovely families. Bound by the famous Central Park to the East and the Hudson River to the West, the scenic views from the Upper West Side are coveted throughout New York.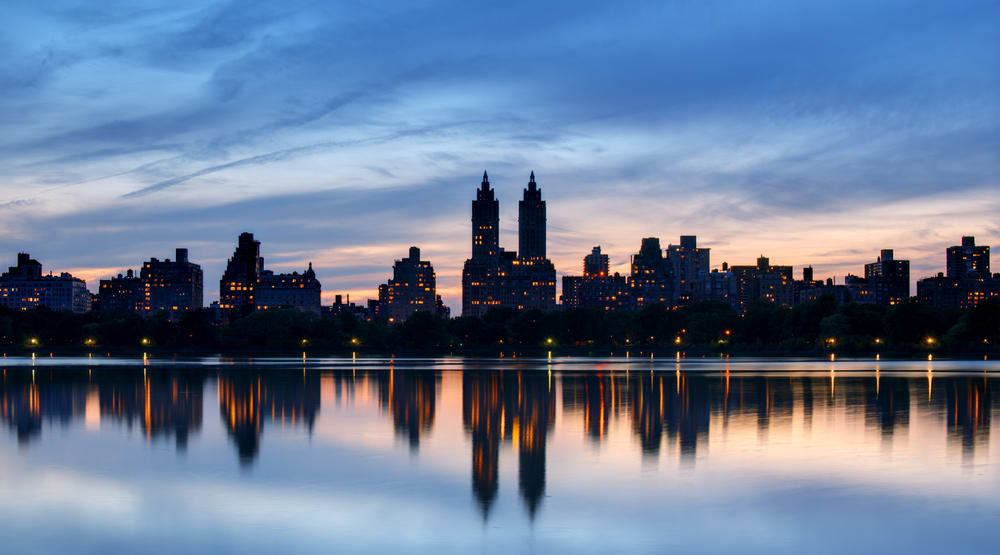 Upper West Side - Stippled in Understated Elegance
Though originally settled by Native Americans, the Dutch in the mid-1600s populated Manhattan's Upper West Side. Fearing the Native Americans might attack the island of Manhattan, Dutch governor, Peter Stuyvesant, set up a colony in this area as a buffer zone for the rest of the settlement. It was called "Bloomingdale" or "Field of Flowers," as the area was mostly farmland until the late 1800s when the rest of Manhattan began moving North.
This area was considered extremely far from the rest of the city. When Edward Clark built an apartment building on W. 72nd Street and Central Park West, it was nicknamed "Dakota" because residents were so far away that they might as well have been in the Dakota Territory. This apartment building is now one of the most coveted in the city—so much so that even A-list celebrities have been denied occupancy.
The Upper West Side is bound by W. 59th Street in the South, W. 125th Street to the North, the Hudson River to the West and Central Park to the East. It sits above Hell's Kitchen and Midtown and is just below the vibrant Harlem.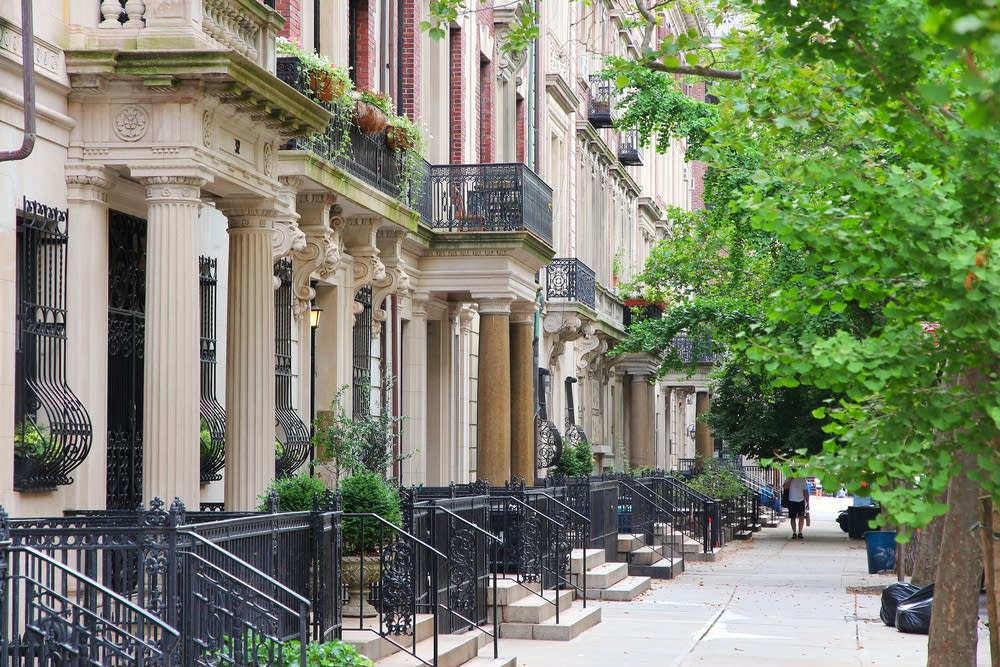 Upper West Side Real Estate Insights
The Upper West Side real estate market has consistently risen for the past 10 years; expect prices to rise, as more people have taken note of this striking luxurious neighborhood. The median selling price of a home in this neighborhood is just under $1.5 million. The average listing price falls just short of $5 million—comparable to
Central Park South
Luxury real estate. The neighborhood has been known to attract successful celebrities, including Bruce Willis and Demi Moore, Matt Damon, Tina Fey (as well as her character, Liz Lemon, on the TV show "30 Rock"), Bono and Josh Groban. Many homes on the Upper West Side offer more space, views of the park and some privacy from the midtown areas scurrying with tourists.
Most Upper West Side homes for sale are apartments. Some residences are located in row houses or brownstones; however, these are fewer and further between, making them more sought after. Streets tend to be calmer and more peaceful than those in Midtown. Cafes, bars and restaurants line the streets where, for example, visitors and locals alike flock to Zabar's on Sundays for fresh bagels and lox. Residents can enjoy views of the waterfront on Riverside Drive or views of Central Park on Central Park West. Both tourists and locals enjoy visiting the Museum of Natural History and the Lincoln Center for the Performing Arts. In order to assure access to the top homes for sale in Central Park South, reach out to
The Noble Black Team
to schedule a private showing.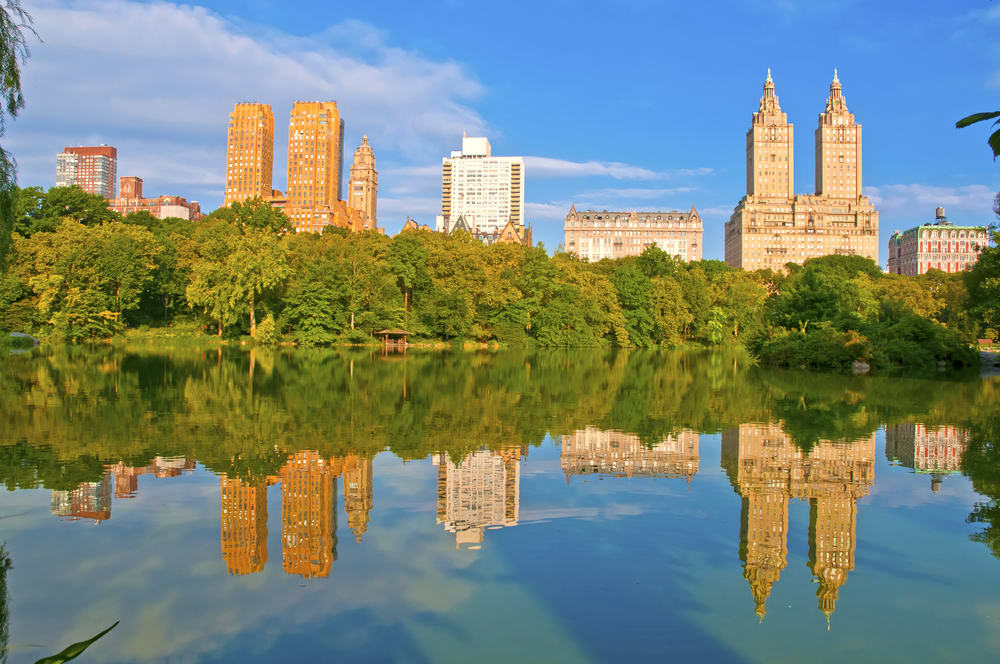 People and Lifestyle
The median annual household income in this neighborhood is just over $100,000. The average Upper West Side luxury real estate household net worth is around $1.25 million. The median age in the Upper West Side is 41 years of age—making this neighborhood more popular for families.
Upper West Side luxury brokers find most people who live on the Upper West Side are in the 20 to 39-age range. The second-highest age range in this neighborhood falls in the 40 to 49-age range. The 50 to 59-age range falls close behind. The age bracket of 20 to 29 is falls just about even with the 60 to 69-age bracket—both equaling around 25,000 of the neighborhood residents each.
Parks and Nature

Central Park has plenty of activities and opportunities for relaxation. Nearby locals enjoy running on one of the park's many hiking trails or playing softball on the baseball diamond. Since tourist attractions (like the zoo, dairy shop, and ice skating rink) are located on the Southern strip of Central Park, residents of the Upper West Side can enjoy quieter attractions. The Jackie Kennedy Onassis Reservoir is a popular local retreat ideal for serene contemplation.
Runners closer to the Hudson River prefer Riverside Park, which offers plenty of spectacular views of its own. Designed as a safe haven, the park is well kept and very secure. It extends all the way up the West side of Manhattan Island. Locals also enjoy hiking up to Inwood Park where they can feel as though they have truly left the city behind.
Theodore Roosevelt Park is so close to Central Park that many visitors mistake them for being one in the same. This park is where the Museum of Natural History is located. It also offers plenty of opportunities for learning about botany and plants indigenous to the area.
Restaurants
Locals love the cozy atmosphere of the Upper West Side. Cesca offers high-end Italian food and has been featured in many TV shows and movies. Telepan is perfect for residents who crave a meal that follows farm-to-table rules. Shake Shack, a New York City institution, is always there when residents need a late-night burger fix. For those who need a late-night burger fix. For those who need a little Latin flare to their cuisine, Calle Ocho is another popular favorite among locals.
Nightlife
The Upper West Side isn't necessarily known for its nightlife; luckily, residents of this neighborhood are close to plenty of activities. Just North of the neighborhood lies Harlem—the former center of black culture, jazz and the Civil Rights Movement. Don't be fooled by misrepresentations in TV and movies, though. Harlem is anything but dangerous these days. Residents of the Upper West Side love heading up to the Apollo Theater for amateur night (a live version of "American Idol" or "America's Got Talent"). Jazz enthusiasts can head to the legendary Bill's Place. This local speakeasy is located in the basement of a brownstone and gives visitors the feeling they've traveled back in time.When residents want a little highbrow culture they head South to Lincoln Center. Here they can watch indie movies, ballet performances and Off-Broadway plays. This is where children and adults of all ages head to in December to watch "The Nutcracker".
Hotels


The Upper West Side might not be known for its luxury hotels; however, this area boasts plenty of mid-range options with high-end amenities. The Lucerne, with an understated elegance, offers relaxing spa services and high-end dining. The Hotel Belleclaire is set in a historic building and surprises guests with modern furnishings and minimalistic décor.
Shopping

Shops on the Upper West Side vary in taste, which include high end retaliers like Barneys New York, and activewear stores like Patagonia, The North Face, and Lululemon. What is more, there are plenty of stores specialized in an array of healthy and natural beauty products, like Lush. You will also be pleased to find a Williams-Sonoma, J. Crew, and the famous family-owned Laytner's Linen & Home store in the Upper West Side as well. While there is a diversity in boutiques in the Upper West Side, many residents enjoy taking a taxi or the subway to Columbus Circle, Chelsea, SoHo or 5th Avenue.
List of Schools


Public:

PS 166 Richard Rodger School, grades PK-5
PS 199 Jessie Isador Straus, grades K-5
PS 452, grades K-5PS 87 William T. Sherman School, grades K-5
PS 111 Adolph S Ochs, grades PK-8
PS 334 The Anderson School, gifted grades K-8
Beacon High School, grades 9-12
Fiorello H. Laguardia High School, grades 9-12
Frank Mccourt High School, grades 9-12
High School Arts Imagination Inquiry, grades 9-12
High School Law Advocacy Community Justice, grades 9-12
Louis D Brandeis High School, grades 9-12
Private:

Beit Rabban School, grades K-5
Blessed Sacrament School, grades PK 3-8
Abraham Joshua Heschel School, grades preschool-12
Calhoun School, grades preschool-12
Dwight School, grades preschool-12