West Village
Where a Bohemian ambiance meets a luxurious lifestyle; the West Village attracts accomplished artists and wealthy free spirits from around the world.
Homes for Sale in West Village

Welcome to the West Village

Where a Bohemian ambiance meets a luxurious lifestyle; the West Village attracts accomplished artists and wealthy free spirits from around the world.
West Village - Artistic in Nature
Inhabited by celebrities, lifelong New Yorkers and professors of neighboring New York University, West Village has been a magnet for those in search of a creative path. Known as much for its high-end real estate as for its bohemian history, this neighborhood is slightly quieter than Greenwich Village—its sister to the East. The neighborhood is in close proximity to many of Manhattan's most desirable areas such as
Central Park South
, Tribeca, and Midtown West.
Once simply a part of Greenwich Village, the West Village separated into its own entity in the 1980s. By 1916, it was known as Little Bohemia. It has been a magnet for poets, like Dylan Thomas (who loved the local White Horse Tavern on Hudson Street so much, he drank himself to death there in 1953), Sarah Jessica Parker (whose famed Sex and the City character's apartment still sits on Perry Street) and the late Philip Seymour Hoffman.
The neighborhood is bound by W. 14th Street in the North, Houston Street in the South, the Hudson River on the West and 7th Avenue on the East.
The West Village and Greenwich Village were owned by Trinity Church in Lower Manhattan during the years the grid system was established from 1800 to 1811. The church decided not to reroute its streets with the rest of the city, which is why both neighborhoods do not strictly obey the grid rules. W. 4th Street and W. 11th Street intersect; at the point of intersection, both are North of W. 10th Street.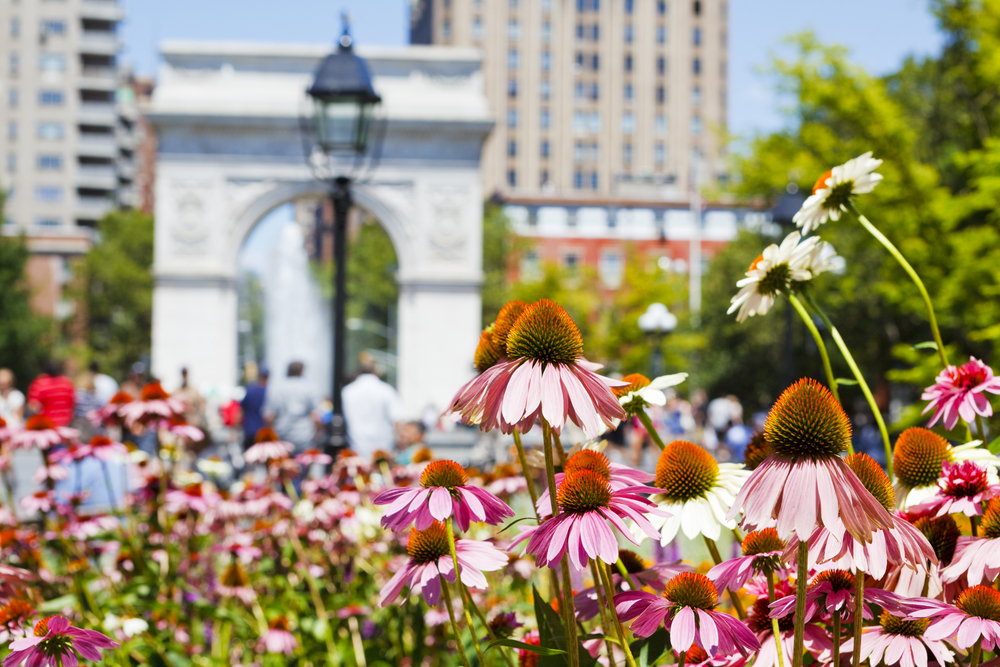 West Village Real Estate Insights
Though the homes appear modest from the outside, the real estate prices are higher here than in the rest of New York City, including Central Park South. The median price of a home in 2015 was $1.9 million—more than
Central Park South luxury real estate
. The average listing price of a home in the West Village was $7.5 million. According to Central Park South Broker, prices are only expected to rise for West Village homes for sale, as space is limited. Moreover, the streets have a more residential ambiance than Uptown Manhattan and both newcomers and native New Yorkers appreciate the rich cultural history of the area.
The quintessential West Village homes vary from Greek revival townhouses, to row houses, and brownstones; however, many of the neighborhood's artsier residents have transformed sheds, carriage houses and even fire stations into chic livable spaces. Many residents enjoy backyards and even garages (as many of the original homes boasted carriage houses in the 1800s). The streets are generally quieter than other neighborhoods, and fewer tourists visit this area of the city.
People and Lifestyle
Since West Village real estate prices and incomes are high, hedge fund managers and celebrities alike tend to inhabit the West Village neighborhood. West Village luxury broker reports the average West Village luxury real estate household's worth in the neighborhood is $1.5 million. West Village top realtor reports the Median household income is $125,000 a year, but most residents (just over 3,000) make between $250,000 and $500,000 a year.
Most residents are in their 30s, and the median age is 37. The second-highest age demographic falls within the 20 to 29 range. Just over half the residents are married. The second highest demographic is married with kids, at almost 30 percent, and nearly 11 percent are single parents.
Most residents of this neighborhood have a Master's degree or higher. The second largest demographic is those with a Bachelor's degree. To learn more about homes for sale in West Village, browse our listings online or reach out to
Noble Black
directly.
Parks and Nature
The most popular park in the neighborhood is nearby Washington Square Park. The unofficial quad for NYU, Washington Square is full of life all year round. Residents and visitors enjoy live music, street performances, and art shows in the park. Within its boundaries sits a dog park and two children's playgrounds. Chess players hang out in the Southeastern side of the park (where parts of "Finding Bobby Fischer" was filmed). The fountains at Washington Square Arch (built by Stanford White of the famed architectural firm McKim, Mead and White) are the park's centerpieces.
Christopher Park offers a more relaxed atmosphere than Washington Square Park, so residents will find other locals here. Named for nearby Christopher Street (where the gay rights movement began at the Stonewall Inn in 1969), the park features statues by local artist George Segal.
For a relaxing view of the water, residents head to the Hudson River waterfront. Pedestrians have stunning views of New Jersey and passing boats from the local piers. The PATH commuter train to New Jersey also disembarks from the waterfront.
Restaurants

Mario Batali's Babbo has been serving up classic Italian fare for longer than most tourists have been heading to the neighborhood. Located adjacent from Washington Square Park, this spot is popular with visitors and locals alike. The chef uses both local and imported ingredients to explore the best the city and Italy have to offer.
Situated at the corner of Bedford and Grove Street, Little Owl is one of the toughest restaurants to snag a table. Reservations are taken months in advance, and the small one-room dining room fills up fast. Though it has nothing to do with the popularity of the restaurant, the restaurant is located in the famed "Friends" apartment building.
After dinner, residents' head to Big Gay Ice Cream for $5 soft serve cones with names like "Salty Pimp" and the "Bea Arthur". This quirky West Village ice cream locale has been ranked amongst the top five ice cream parlors in the U.S.
Nightlife

The Jane Hotel has one of the best rooftop bars in the summer. Ironically opened in 1904 by the temperance movement to dissuade sailors from spending their money on "pleasures of the flesh", the hotel now has one of the hottest bars in the area.
Have a glass of whiskey at the Whitehorse Tavern on Hudson Street to pay your respects to poet Dylan Thomas, who met his demise here in 1953. Author of the famed poem "Night", Thomas famously drank 18 shots of whiskey before passing out in his room at the Hotel Chelsea.
Slated to reopen by 2016, Chumley's is one of New York City's original speakeasies. Though it has been boarded up since 2008 (due to a roof collapse and a fire in the dining room), the spot has been popular since it opened in 1922. Thanks to 1920s mayor Jimmy Walker and his relaxed ideas on prohibition, Chumley's was able to stay open throughout police raids. Owner Leland Chumley would pay off the police, who in turn would call ahead and warn bartenders to "86" their customers (Chumley's sits at 86 Bedford Street). The term 86 is still popularly used today when bouncers need to throw out drunken patrons.
Hotels
The chic Hotel Marlton on W. 8th Street has a comfy lobby, retro check-in counter and some of the coziest rooms in the city.
The Jane Hotel on Jane Street is located just across the Hudson River and South of the new Whitney Museum. Guests can reserve a captain's room for around $200 a night or a crew's cabin (complete with bunk beds and a nautical theme) for around $100 a night.
Shopping
The West Village has a throng of stores that tend to all sorts of tastes and needs. For those interested in beauty products, Aedes de Venustas, a Parisian shop specialized in high-end bath and body products, is the place to go.
Considerosity is a popular West Village boutique that offers a varied selection of ornate jewelry and house decor. Flat 128 offers modern and vintage finds from the United Kingdom. With an eclectic mixture of stores, West Village never disappoints in its varied range of boutiques.
Thanks to New York University's close proximity, there is plenty of unique thrift stores around Washington Square Park that offer inimitable finds. Locals also head to nearby Chelsea and SoHo for high-end boutiques and department stores.
List of Schools
Public:
PS 41, grades K-5
PS 3, grades K-5
Hudson High School of Learning Technologies, grades 9-12
Manhattan Village Academy, grades 9-12
Private:
Barrow Street Nursery School, preschool
Village Preschool Center, preschool
West Village Nursery School, preschool
Perry School, preschool
City and Country School, grades preschool-8
Academy of St. Joseph, grades PK-8
Village Community School, grades K-8
St. Luke's School, grades K-8
Little Red School House & Elisabeth Irwin High School, grades PK-12
Notre Dame School, grades 9-12